Mon-Opal-y
Welp.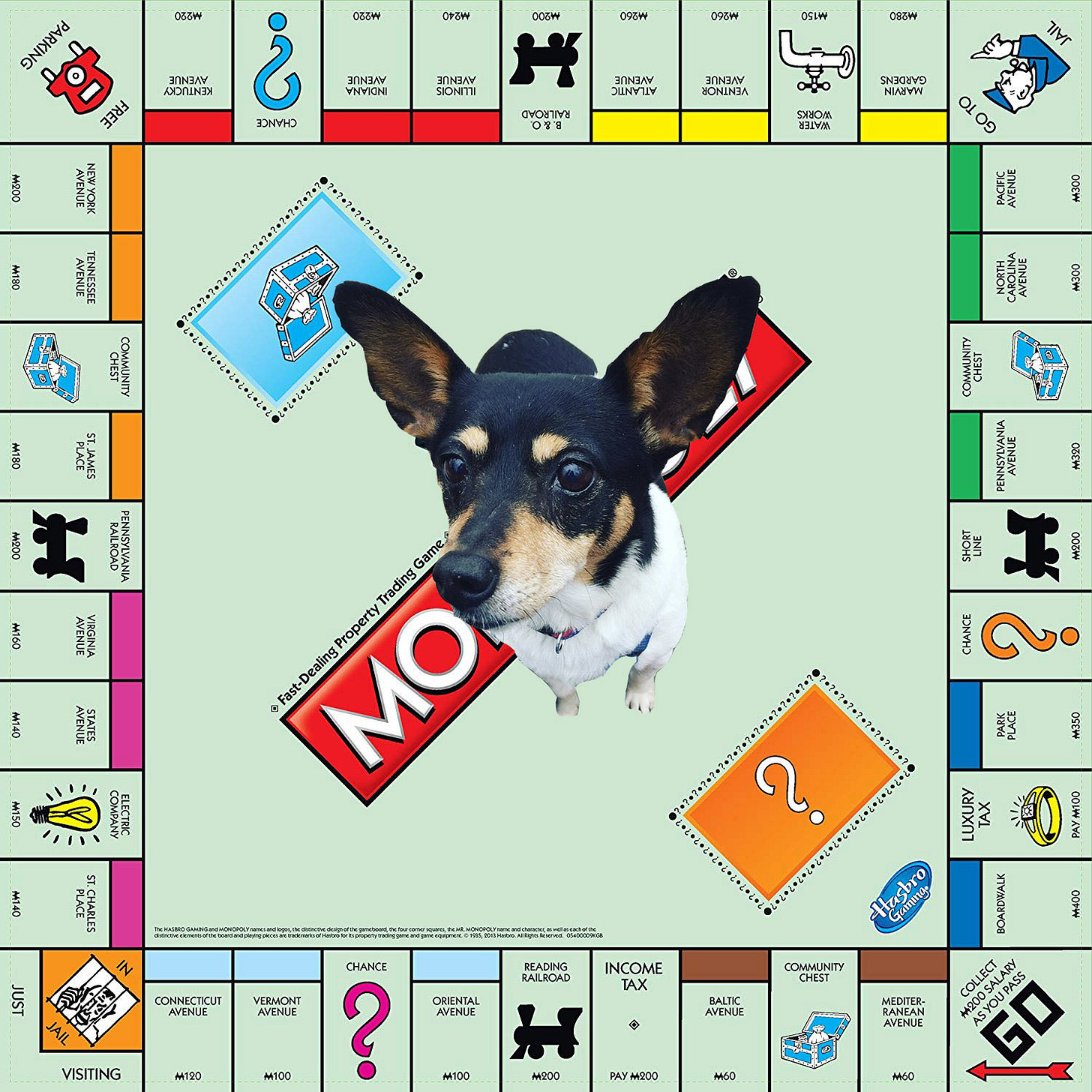 This may be my dumbest Opal PhotoShop yet.
Welcome back to Jacob's Letter, a free pop culture newsletter full of puns and badly-PhotoShopped dog photos. This week's issue is all about monopolies, both fan-made and corporate-built (trust me, it's more interesting than it sounds).
Oh, and there's a "John Wick: Chapter 3 — Parabellum" review, as well as the usual Trailer Park, Letter of Recommendation and Friday News Dump segments.
So grab a seat around the dinner table, start fighting with your siblings over who gets to be the racecar and choose someone in your family to be the banker, 'cause we're playing a round of Monopoly.
---
Revenge of the nerds
Two big developments for fandoms happened this week. First, more than 700,000 people have signed a new petition that's been making the rounds online demanding that Season 8 of "Game of Thrones" be remade "with competent writers."
Second, the directors of the upcoming "Sonic the Hedgehog" movie changed the look of Sonic after enough fans complained about it online.
To be fair, those human teeth aren't just creepy, they've taken up permanent residence in the uncanny valley. But both of these decisions set dangerous precedents.
Fans complaining about a movie or a film is nothing new; recent change.org petitions that have gained ground (but never acted upon) called for Brie Larson to be removed from "Captain Marvel" because she "has the personality of a corner houseplant and cannot stand in the same movie set as Tony Stark or Steve Rogers." Another one demanded that "Star Wars: Episode VIII — The Last Jedi be removed from the "Star Wars" canon because "it destroyed the very reasons most of us, as fans, liked Star Wars."
I've got no dog in this fight. I haven't watched an episode of "Thrones" since Season 4 and I'm reserving my judgements on the "Sonic" movie. What I do take umbrage with is this fan culture mindset that everything must be catered to them and them alone at the expense of the artists' vision.
With the advent of "nerd culture" and huge intellectual properties being made by movie studios, fans are understandably attached to the screen adaptations of whatever they like, be it "Thrones" or "Star Wars" or Marvel/DC comics.
As much as all of the above properties play up the "we did this for the fans" angle, make no mistake: These properties exist to make money first, and to give you entertainment second. No amount of online whining is going to change a studio exec's decision to greenlight a whole season of television that's already airing. Sonic's getting a makeover because the fans demanded it, yes, but he's getting a makeover because the studio wants your money.
I get being angry with a show about its story arcs and its failings ("This Is Us" is just toying with our emotions at this point; I remember being very perplexed at the second and third seasons of "Lost"; don't get me started on the ending of "How I Met Your Mother") but getting so angry about a fictional TV show that ultimately should not have any bearing on your quality of life that you would write a petition on a website about something that can't be changed is the epitome of toxic fandom. Grow up.
---
Movie Review: John Wick 3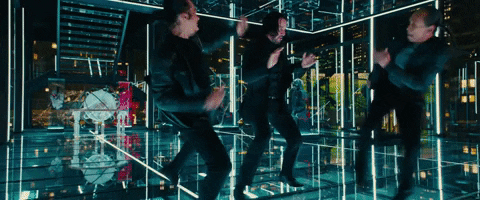 Everyone's favorite dog-loving assassin is back, and this time, all of New York's criminal underworld is after him. But this time, he's got Halle Berry and her trained attack German Shepherds on his side. Read my review at WFAA here.
My rating: 3.5 rosary beads out of 5
---
Disney to Hulu: Pass 'Go,' collect $27.5 billion
The year is 2024. There are no more movies, just "Disneys." Every piece of #content is either Marvel, "Star Wars" or Disney-themed. One company owns everything, and will buy up any competition in its way.
I exaggerate, but not really.
Disney already owns ESPN, 20th Century Fox, Fox Searchlight, Marvel, Pixar, Lucasfilm and every movie and TV show made by Fox.
Now, after its massive, historical, $71.3 billion merger with 21st Century Fox also ensured Disney would own Fox's 30 percent ownership stake in Hulu (giving the House of Mouse a 60 percent controlling stake of the streaming service), Comcast has agreed to sell its roughly a third of ownership stake in Hulu to Disney for a 2024 valuation of $27.5 billion. The sale won't happen for another five years, but Disney will take over operational control of the streaming service effective immediately.
Disney was always a shareholder in Hulu. At its inception, the service was a joint venture between Disney, 21st Century Fox, Comcast's NBCUniversal and Time Warner (now WarnerMedia). None of them had majority control.
Right now, Hulu has about 27 million subscribers. Disney plans to integrate those viewers with its upcoming Disney+ service, and has said it will not shy away from keeping adult programming on Hulu, per CNN:
Disney has already made clear that Hulu will be a critical part of its streaming strategy. When the company debuted its Disney+ service to investors last month, it also spoke at length about the future of Hulu, which has more adult programming, like "The Handmaid's Tale."

…"Hulu is the third leg of Disney's streaming strategy," said Trip Miller, a Disney shareholder and managing partner at Gullane Capital Partners. "Six months ago, you had four owners to the business and it was very complicated and confusing — so this brings about a lot of clarity and control of direction for Disney."
And to think it all started with a mouse.
---
Metamodern Undead Sounds in Country Music
In addition to being one of country music's most distinct new voices after just three albums, Sturgill Simpson has carved out quite the Hollywood niche for himself. He created and sang the theme song for HBO's short-lived "Vinyl," and last year, he starred in an episode of the CBS All Access show "One Dollar."
More: Sturgill Simpson teaches a master class in cool at ACL Live
Now his music (or at least, mention of his music) will now show up in Jim Jarmusch's upcoming star-studded zombie flick "The Dead Don't Die."
This might mean new music's coming from Simpson, who has been hinting at a double-album for a few years now. But this is probably just a fun little joke, as Simpson's last album, "A Sailor's Guide to Earth," came out right as his son was being born.
Check out a clip of the movie below, featuring Selena Gomez and Caleb Landry Jones:
---
Trailer Park
Want more trailer news for all the movies coming out this summer? I have just the thing: Read my summer movie preview here at jakeharrisblog.com.
"Judy"
Renée Zellweger IS Judy Garland. Renée Zellweger SINGS "Somewhere Over the Rainbow." This trailer HAS beautiful cinematography. This IS a biopic set for release in September, too late for summer blockbuster season and too early for Oscar season. That's ALL this trailer is indicating.
"Midsommar"
The first trailer was unsettling and creepy. So far, so Ari Aster. But this new trailer, which dropped Tuesday, hones in on the characters and ups the creep factor. I loved Florence Pugh as a wrestler with a dream in this year's charming "Fighting With My Family." This looks like her "Toni Collette in 'Hereditary'" moment to shine.
"Black Mirror Season 5"
I dunno, guys, I think maybe, technology might be bad. The "Twilight Zone" for technology returns this summer with three new stories, starring Topher Grace, Miley Cyrus, Anthony Mackie and a whole lot of existential dread.
"The Righteous Gemstones"
Danny McBride's brand of humor is very divisive. Like Will Ferrell, his specialty comes in playing men who are absurdly confident they are right, despite every ounce of evidence to the contrary. "Eastbound and Down" and "Vice Principals" (which was excellent and prescient) highlight this in neon, and the upcoming televangelist satire "Righteous Gemstones" looks to do the same. I'll definitely be tuning in this August.
---
Letter of Recommendation
Movie: "A Face in the Crowd" just got a Criterion re-release, and I watched it for the first time since my freshman History of Broadcast class this week. This story of a boisterous Arkansas radio man who goes on to become a TV star and political demagogue is prescient in more ways than one (in addition to predicting the role TV would play in American culture, it also predicted celebrities hocking Viagra). As Andy Griffith's first film role, it shows a completely different side of him than the nation would later see as Sheriff Andy Taylor.
Music: The latest Mountain Goats album "In League With Dragons" was partially inspired by "Dungeons and Dragons" (and there is a song on the album about a wizard king), but the theme of this album is more "twilight of the gods," summed up by frontman John Darnielle: "Old wizards and old athletes are the same. They were once magic." The album is meditative if you listen to the lyrics closely, but it's also perfect for easy listening if you just want to let the music wash over you. "Waylon Jennings Live!" is already one of my favorite country songs of the year.
Book: Some of the best movies of the last 30 years were released in one 12-month span: 1999. The new book "Best. Movie. Year. Ever.: How 1999 Blew Up the Big Screen" by Brian Raftery delves into the stories behind such groundbreaking films as "Blair Witch Project," "Office Space," "Run Lola Run," "The Sixth Sense," "Fight Club" and many, many more. I read a ton of pop culture books, and 40 pages in, this is already one of the best ones I've read.
TV: The ending of the first season of Bill Hader's "Barry" on HBO last year seemed to wrap everything up. Where else could this story of an Iraq War veteran-turned-hitman-turned-aspiring actor go? As season two shows: Many, many more unexpected places. Funny and poignant and over-the-top violent, this is my favorite show of the summer.
Board Game: A new favorite for game night in the Jake Harris/Taylor Tompkins household is "Azul," a tile-laying game where you try to complete a horizontal row of mosaic tiles before your opponent does. Don't let that simple explanation fool you; there's a lot of strategy involved, and it's a ton of fun.
---
Friday News Dump
A list of online stuff I really liked this week:
That's all, folks. If you liked what you saw here, click that subscribe button (promise I won't send any annoying emails) and tell all your friends!
If there's anything you want to see covered in a future newsletter, let me know!
You can find me in other corners of the internet as well, if you so choose. There's my personal website (which focuses on pop culture, faith and my journalism clips), a Twitter account and a Letterboxd account. Subscribe away.
See you next week,
Jake