A re-hired Gunn
James Gunn is back to helm 'Guardians of the Galaxy 3' for Marvel, after nearly a year of being targeted by alt-right trolls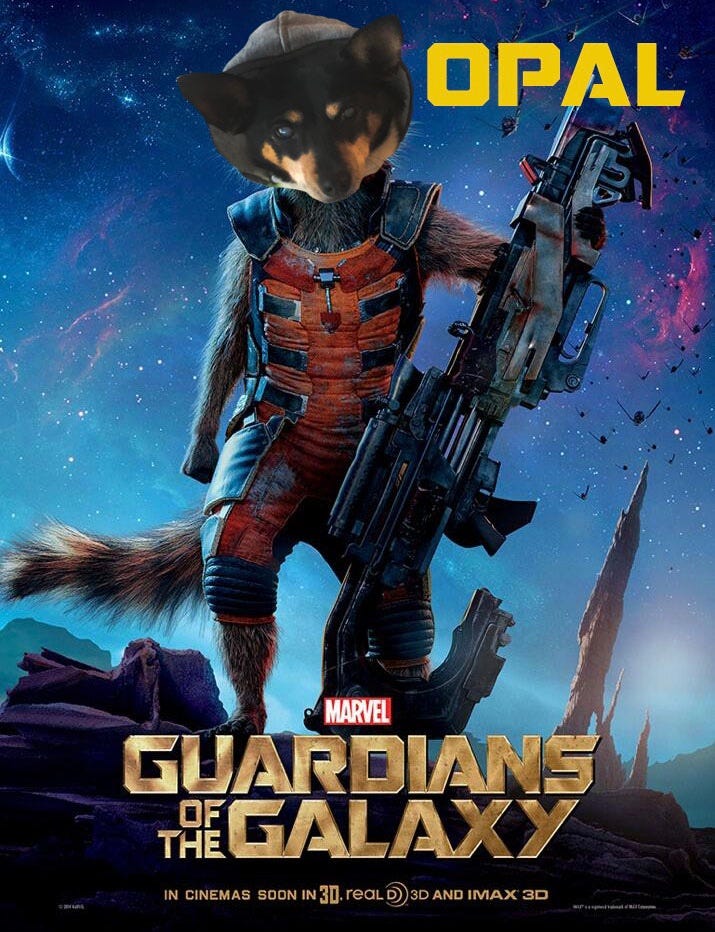 Hi y'all! Welcome back to Jacob's Letter, a free pop culture newsletter full of puns and dog photos. (Forgive the horrendous PhotoShop above. Opal the rat terrier mutt as Rocket Raccoon just fits.)
This week, we got news about Jams Gunn coming back to the Marvel Cinematic Universe, more Disney merger news, a spoiler-free review of Jordan Peele's "Us" and lots more. Check it out below:
---
Hired, fired, re-hired
Just as I was putting the finishing touches on last week's newsletter, Disney announced that it had re-hired director James Gunn to come back to helm the third installment of the "Guardians of the Galaxy" franchise in the Marvel Cinematic Universe.
Why is this a big deal?
*Deep breath*
Gunn was fired from the franchise last summer after some ultra-conservative and right-wing outlets and commentators — specifically the Daily Caller and Mike Cernovich — dug up old, vile tweets from Gunn after Gunn criticized conservative pundit Ben Shapiro. The decade-old jokes they dug up were terrible, disgusting and shocking for shock's sake, often revolving around pedophilia or rape.
Ain't the internet grand?
(Side note: I interned at The Daily Caller for a semester, and the orchestrated hit job they did on Gunn is exactly the kind of stuff I was told to do as an intern! It was not fun!)
Anyway, Disney fired Gunn amid the backlash, the people whose job it is to dig up old tweets for a living felt vindicated, Gunn apologized profusely, left the franchise, lived very low-key for a while, got hired as the director of DC's "Suicide Squad" reboot, and now he's back, after a year of protests from fans religiously using the #RehireJamesGunn hashtag.
Were the jokes he made gross and terrible and completely out of line and unacceptable? Yes. Did he actually do anything that the jokes described? No. Gunn apologized as early as 2012 for these jokes, and learned from them and moved on. I'm glad to see him rehired, and hope that we can use this as a learning point for more nuanced discussions on the internet. That doesn't erase what he said, but there's no point in calling out someone's behavior if you don't want them to grow from it. The way we vilify others on social media without knowing all the facts is a dangerous game we've all started playing, and we would all do better to learn how to implement grace in our lives a lot more.
(I gave up most social media except for times when I'm working for Lent, can you tell?)
---
Monopoly Mouse
As of Wednesday, Disney's massive, historical, $71.3 billion merger with 21st Century Fox is complete and legal and doesn't violate any anti-trust laws. The Walt Disney Corporation now owns 20th Century Fox, Fox Searchlight, Marvel, Pixar, Lucasfilm, every movie and TV show made by Fox and, adding Fox's 30 percent ownership stake in Hulu, now owns 60 percent of Hulu.
That brings the list of major Hollywood studios to five: Disney, Warner Bros., Sony, Universal and Paramount.
News of the finality of the merger was lighting up social media with every "Oh wow, Disney now owns 'The Simpsons'!" observation, but for every person who rejoiced at the fact that Deadpool can now finally meet Spider-Man in a movie, there was another pointing out that, uh, thousands of people at Fox are now out of a job, and other assets like Fox 2000, which mostly produced mid-budget fare, are gone. Combined with the advent of Disney's new streaming service Disney+, we'll all be living in the house of Mouse soon.
---
No more LifeWay
Speaking of businesses closing, this one might only be relevant to me and people who grew up like me, but LifeWay Christian Resources announced Thursday that it will be closing all 170 of its bookstores.
For those that don't know what LifeWay is, it is a chain of bookstores located mostly in the South that sold Christian (read: mostly Baptist, theologically) books, music, movies and other media. Those who grew up in the '90s and aughts will fondly (or not so fondly) remember its "If you like this secular band, try this Christian band" posters.
"Our world and our customers are increasingly online. Investing in a dynamic digital strategy allows LifeWay to better serve the Church in its mission and only enhances our ability to provide biblical solutions for life," LifeWay's acting president and CEO said in a statement this week.
Now, look, all bookstores are struggling. I was sad when Borders closed, I mourned the loss of my local Hastings, and I've seen countless Barnes & Nobles stores leave the DFW area. I also don't want to rejoice over the fact that people are losing jobs.
But to blame the internet here as the sole cause might be missing a larger issue: representation. Authors who get published at LifeWay must adhere to the often dubious standards set forth by the store, and those who are banned for their "progressive" views, like Rachel Held Evans or Jen Hatmaker, lose a key market that might be exposed to their books. And this Twitter thread goes into how LifeWay probably contributed to a lot of the rhetoric around American church culture today.
By refusing to accept even a little bit of deviance from the norm, LifeWay shut themselves off. Their closing comes as no surprise.
---
Trailer Park
A new segment of the newsletter where I look at some of the movie trailers that debuted this week (because there were a lot). I know some people don't like watching them because of potential spoilers, but a good trailer done well is a work of art in itself. Here's a few I saw that I liked:
---
It's 'Us'
"Us" is here! I saw it Thursday night! It was amazing and I still don't really know what it all *means*! I wrote a non-spoilery review of it with my thoughts about its metaphors here. Check it out. I'm already a huge Jordan Peele fan, and this just confirmed my willingness to watch anything the man makes for the rest of his career.
My rating: 4 out of 5 yachts
Another movie review: 'The Wedding Guest'
My wife and I saw "The Wedding Guest" last weekend on a date night. I went in knowing absolutely nothing about it and enjoyed it quite a lot. Starring Dev Patel and directed by the guy who brought you the Steve Coogan "Trip" movies, it's less of a thriller than it is a really crazy road trip movie. Well worth seeing.
Two documentaries worth your time
"The Inventor," about Elizabeth Homes' swindling of Silicon Valley with Theranos, was so entertaining and informative I bought the book the doc was based on the next day. Available on HBO

"For All Mankind" is a documentary comprised solely of footage from the moon landing expeditions. I love movies about space and its vastness. It's awe-inspiring and also humanizing, to see the way these astronauts treated this landmark event as just another day at the office. Available on Blu-Ray/DVD or on the soon-to-come Criterion Channel streaming service.
---
Friday News Dump
A list of online stuff I really liked this week:
That's all, folks. If you liked what you saw here, click that subscribe button (promise I won't send any annoying emails) and tell all your friends!
You can find me in other corners of the internet as well, if you so choose. There's my personal website (which focuses on pop culture, faith and my journalism clips), a Twitter account and a Letterboxd account. Subscribe away, if that's your thing.
See you next week,
Jake