Happy Thursday. Welcome back to Jacob's Letter, a free pop culture newsletter full of puns and occasional badly-PhotoShopped dog photos. Hope everyone had a great Thanksgiving. Also, Happy Advent season, and may all your Christmases be bright.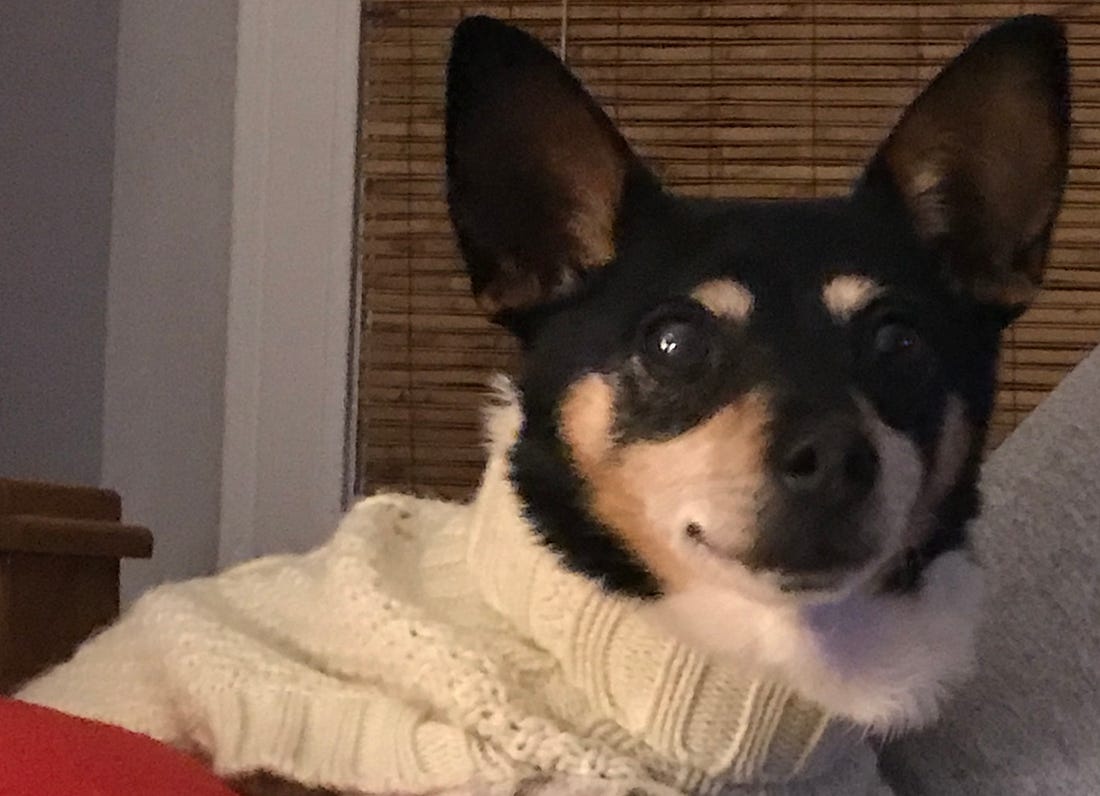 Opal has the same sweater as Chris Evans in 'Knives Out'
Today, we discuss Martin Scorsese's "The Irishman" and Rian Johnson's "Knives Out," as well as some new James Bond developments and the usual newsletter segments.
(First-time reader? Click this button to subscribe):
Coming up soon: There will be a "Star Wars" exclusive newsletter ahead of that film's release, plus some "Best-of" lists toward the end of the year. As the holidays get closer, I won't have as much time to write this newsletter, so posts will be more sporadic, but I am hoping to do more year-end lists as we close out the year. What's December without a bunch of Top 10 Lists?
But for now, it's time to talk of knives that are out, men that are Irish and some more movie news.
---
The real whodunit was the fiends we made along the way
One of the most fun moviegoing experiences I've had this year was at "Knives Out," a throwback whodunit in the vein of Agatha Christie starring a murderer's row of talent, from Daniel Craig to Chris Evans to Jamie Lee Curtis to Michael Shannon to Toni Collette to Ana de Armas, all wearing fantastic sweaters.
The gist: A prominent murder mystery writer is dead. Anyone in his family could've done it. Detective Benoit Blanc (Daniel Craig doing his best Foghorn Leghorn voice) is called in to help the Boston police solve the crime. As twists and turns are revealed, it's clear that "Knives Out" is less of a murder mystery (although there is a Big Reveal Scene with a monologue about donut holes that is some of the funniest stuff I've seen all year) and more of a class warfare film that uses a whodunit as its entry point.
I wasn't as all-caps BLOWN AWAY by it by most of social media, but it is a fun, funny, entertaining movie with more on its mind than just mystery. Would make a good triple-feature with "Parasite" and "Us."
My rating: 4.5 cable-knit sweaters out of 5
---
I heard you make mob movies
If you have 3-and-a-half hours to spare, I highly recommend you check out "The Irishman" on Netflix. It's Martin Scorsese at his most contemplative, and it sticks with you long after it's over. Ignore the purists (including Scorsese himself) who say you have to watch it on the big screen or on a big TV all in one sitting. It's just as moving if you watch it on a laptop, and since it's not in wide release in a bunch of theaters, streaming it is going to be the only way a lot of people can see this film. Fire up the computer and let yourself be taken on a journey.
Read my review of the film here at jakeharrisblog.com.
My rating: 5 dead fish out of 5
---
Low visibility
Hot off the news that Leigh Whannell's take on "The Invisible Man" will arrive next February, it was announced this week that Elizabeth Banks will star in and direct "The Invisible Woman" for Universal.
After Universal's gambit to create a "Dark Universe" franchise out if its most iconic monsters from early in the studio's history flopped with a poor reception for "The Mummy," it looks like the company is looking to create a loosely-related group of monster films here, along with Paul Feig's upcoming "Dark Army" and Dexter Fletcher's "Renfield."
This is also a huge step up for Banks, who is being afforded the type of faith in helming a blockbuster previously only afforded to indie dudes, in that this opportunity was announced after her "Charlie's Angels" remake flopped hard at the box office.
---
Noirvember recommendation: 'The Big Sleep'
I got the chance to see one of my favorite movies on the big screen his week when I saw Howard Hawks' adaptation of Raymond Chandler's noir novel "The Big Sleep" at the Magnolia Theater in Dallas.
As Noirvember comes to a close, this remains my favorite of that genre. Humphrey Bogart and Lauren Bacall have amazing chemistry, and the film works if you just sit back and don't worry about its labyrinthian plot involving a millionaire and his daughter and instead focus on the movie stars taking up the screen. With a script written by William Faulkner and Chandler, it's a delight from start to finish. Check it out when you can, and read the book it's based on, too — Chandler was a master who invented the modern noir genre.
---
Islands in the Stream
"Islands in the Stream" is where I'll discuss any and all happenings on the streaming front every week, since there's so much of it now. While you're here, read my deep dive for WFAA about how diverse the streaming landscape is becoming.
This week:
Not a lot going on this Thanksgiving week.
The streaming wars come at a price for companies, too: Vox's Re-Code estimates that Disney, Netflix, and WarnerMedia will spend $16 billion to grab customers.

"Locke and Key" on Netflix has a release date: February 7, 2020. The comic series about a family who moves into an old manor with magical keys is one of my favorites, and I'm thrilled that the TV adaptation finally found a home (it was at FOX and Hulu before Netflix). I'm trying not to get my hopes up about it, but I'm really excited.
---
Trailer Park
Trying to decide which movies to see in the theater over the holidays? My gift to you is this holiday movie preview at jakeharrisblog.com.
"No Time To Die"
James Bond is back! The trailer for Daniel Craig's fifth and final outing as 007 looks like it's trying to evoke "Casino Royale" and finish out his storyline for good. A shame he won't use his Benoit Blanc accent.
"Three Christs"
Richard Gere stars as real-life psychiatrist Dr. Alan Stone, who arrives at a mental hospital in Ypsilanti, Michigan in 1959 believing that schizophrenic patients should be treated not with confinement and electroshock therapy but with empathy and understanding. His first case is to study three men — Joseph (Peter Dinklage), Leon (Walton Goggins), and Clyde (Bradley Whitford) — who each believe they are the second coming of Jesus Christ. This trailer starts off as a quirky character study and then quickly shifts into Very Important Movie territory real quick.
"Black Widow"
Black Widow finally gets her own movie, after dying in "Avengers: Endgame." This really would have done well back in 2012 or 2013, but Marvel is using this to kick off Phase 4 of the MCU. If anything, the supporting cast (Florence Pugh, David Harbour and Rachel Weisz) make this look like a fun way to kill some time in a theater this summer.
---
Letter of Recommendation
What I'm reading: One of the wildest books I've read all year was Stephen Chbosky's "Imaginary Friend," a 700-page doorstopper about a kid who has to build a treehouse in the woods near his home or else the world will end. This is Chbosky's first novel since 1999's "Perks of Being a Wallflower."
Overall, "Imaginary Friend" is a beautiful, modern "It" pastiche that comes by its influences honestly and is much more empathetic and religious than one would originally think.
The story is an engrossing combination of horror and remixes of fairy tales and Bible stories. Every character here, even the villains, are given their "sympathy for the devil" moments and are empathized with to a degree not always found in the horror genre.
My only complaints are that it sometimes wears its Stephen King influences on its sleeve a little too loudly — the numbers 217, 237 and 19 are used liberally, as are a lot of Kingian themes — and the final 200 pages, while thrilling, are repetitive and could have been chopped down through some editing.
But other than that, this is an effective horror novel that has a lot more on its mind than scares.
What I'm watching: After seeing "Knives Out," I found Rian Johnson's second film, "The Brothers Bloom," on YouTube. Mark Ruffalo and Adrien Brody star as two con-men brothers who are trying to swindle a wealthy widower (Rachel Weisz) out of her fortune. The playful genre shuffling Johnson loves to do is on display here, along with a lot of humor and heart. It's free to watch on YouTube below.
---
Friday News Dump
A list of online writing I really liked this week:
In the spirit of Scorsese, this oral history of his mob epic "Goodfellas" is almost as entertaining as the actual thing. (via Sarah Goldstein, Alex Pappademas, Nathaniel Penn and Christopher Swetala in GQ)

I love "The Mandolorian." I love Baby Yoda. Everyone who views "The Mandolorian" loves Baby Yoda. But Disney hasn't released any merchandise yet and is instead waiting for the holidays to hit. This Baby Yoda Black Market Guide has you covered if you want a jump start on merch. (via Jen Chaney in Vulture)
That's all, folks. If you liked what you saw here, click that subscribe button (promise I won't send any annoying emails) and tell all your friends!
This newsletter is written by me and edited by my favorite person, Taylor Tompkins. Views expressed here are my own and don't reflect the opinions of my employer, yadda yadda yadda.
If there's anything you want to see covered in a future newsletter, let me know!
You can find me in other corners of the internet as well, if you so choose. There's my personal website (which focuses on pop culture, faith and my journalism clips), a Twitter account and a Letterboxd account. Subscribe away.
See you next week,
Jake