Happy Tuesday. Welcome back to Jacob's Letter, a free pop culture newsletter full of puns and badly-PhotoShopped dog photos.
This week features no PhotoShop, just a pretty great photo of Opal laying on our new rug during Taylor's birthday party.
Honestly, a model.
We've spent the last few weeks celebrating our birthdays, our friends' birthdays, and just generally being pretty busy, but I finally found time to write this newsletter. Last week's was quite lengthy, so this week's is shorter. Below you'll find a review of "El Camino: A Breaking Bad Movie," an obituary for Robert Forster and all the rest of the usual Jacob's Letter segments. Keep scrolling for more.
(Also, have you subscribed to this newsletter yet? Click this button to get started):
---
Movie review: A half measure
Mike Ehrmantraut famously told Walter White in "Breaking Bad" that he shouldn't take any more half measures. In "El Camino," a "Breaking Bad" epilogue that just landed on Netflix, Jesse Pinkman (Aaron Paul) only takes full measures, but the movie takes one step forward and two steps back. Read my review for Book & Film Globe here.
---
R.I.P. Robert Forster
One of the best parts of the "El Camino" film was the reappearance of Robert Forster's "dissapearer" Ed the Vacuum Man. Sadly, that film debuted the day of his death, Oct. 11. He died at the age of 78 from brain cancer in Los Angeles, according to reports.
Forster started his career in John Huston's "Reflections in a Golden Eye" in 1967, opposite Marlon Brando and Elizabeth Taylor. He would go on to have a successful career for a bit before being relegated to supporting roles until 1997's "Jackie Brown," where writer/director Quentin Tarantino recruited him for the part of bail bondsman Max Cherry. The performance earned Forster a Best Supporting Actor nomination. (He lost to Robin Williams for "Good Will Hunting.")
Related: Read my review of "Once Upon a Time … in Hollywood" here
Known for his straightforwardness and his earthliness, Forster then built a career out of playing everymen in films like "The Descendants," "Olympus Has Fallen," "Mulholland Drive," "Me, Myself & Irene" and (the film I first saw him in) "Like Mike." He was understated but always radiated screen presence, and you always knew you were in for a treat when he showed up on the screen.
---
Islands in the Stream
"Islands in the Stream" is a new segment where I'll discuss any and all happenings on the streaming front every week, since there's so much of it now. While you're here, read my deep dive for WFAA about how diverse the streaming landscape is becoming.
This week:
Like Babe Ruth calling his shot, Disney decided to go ahead and announce what exactly would be in store for Disney + subscribers Monday in what was probably the longest thread in Twitter history. This list stretches back to "Snow White and the Seven Dwarfs," and includes pretty much every Disney film and TV show made since the company was started, with some exceptions (lol, like they were ever going to let "Song of the South" see the light of day again).
There are also some nebulous items on the list, like the blatant rebranding of 20th Century Fox's "Miracle on 34th Street" as a "Disney" film, but overall, this list is insanely comprehensive and points to Disney having one of the oldest and most varied streaming libraries in existence. (That's also because Disney owns Pixar, Miramax, 2/3 of Hulu, 20th Century Fox, Touchstone and many other studios, but, y'know. They didn't back in the '40s.)
While scrolling through the titles, I saw many movies I watched as a kid and long thought were only available on VHS ("Swiss Family Robinson," "The Apple Dumpling Gang," etc.). I realize I'm caving to nostalgia and playing right into Disney's marketing here, but I'm actually excited to dig into the back catalog to see what all I missed.
Also, as a film history nerd, the THREE-HOUR trailer Disney compiled to go with the Twitter thread is basically a history documentary and a work of art in itself. If you've got time to spare, check it out.
---
Trailer Park
Want more trailer news for all the movies coming out this September and October? I have just the thing: Read my fall movie season preview here at jakeharrisblog.com.
"Jungle Cruise"
Ohh man. First off, I salute this trailer for not doing that obnoxious 5-second mini-trailer-before-the-trailer thing and just getting right down to business. Second, this looks like so much fun. The Rock plus Emily Blunt in an old-school adventure movie that looks like a cross between "The Mummy" and "Pirates of the Caribbean"? I'm sold.
"Onward"
This second trailer for Pixar's upcoming tale about elves and goblins and magic looks a lot weirder than it first let on. I don't know how they're gonna make a gut-wrenching emotional saga out of this one but I'm sure it will make me tear up.
"Doolittle"
Why?
This thing will flop domestically and make a ton of money overseas, mark my words.
---
Letter of Recommendation
Movie: One of the most affirming and beautiful movies I've ever seen about growing up, having pride in one's work and finding your calling and taking joy in it: "Kiki's Delivery Service." I watched it for the first time this week and was floored. Go find it and watch it now.
Music: The Alabama Shakes' Brittany Howard just released her first solo album, "Jaime." It's soulful and bluesy and sounds like a church service, even if she admits she doesn't attend anymore. Check out "He Loves Me":
Book: Another Halloween selection: Joe Hill's short story collection "20th Century Ghosts" is a mixed bag, and some of the stories sound too much like Hill is imitating Stephen King (which is understandable, since King is his father), but the ones that hit will stick with you long after you're done reading, namely the title story and "Pop Art" and "Abraham's Boys."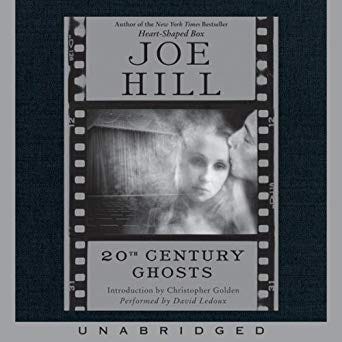 Video Game: I am not immune. I, too, bought the "Untitled Goose Game" for the Nintendo Switch and subsequently spent the next hour or so playing as a goose who harasses the ever-loving crap out of a neighborhood, doing everything I can to make life miserable for the townspeople in this game. It's dumb and childish and a ton of fun.
---
Friday News Dump
A list of online stuff I really liked this week:
Lizzo did not headline the Austin City Limits music festival, yet she had the biggest crowd there, two weekends in a row. (After standing in the middle of a packed crowd at her show in Dallas, I see why she commanded such a huge crowd.) Austin 360's Joe Gross breaks down the math of festival booking to understand why Lizzo wasn't on a main stage. (via Joe Gross in Austin 360)

The Ringer's series on comedy in the '90s has reached the spoof stage, and this series just gets better and better. (via Alan Siegel in The Ringer)

American workers are increasingly working weirder and longer hours, and our personal lives are suffering because of it. I wouldn't know anything about that, nope, not at all. (via Judith Shulevitz in The Atlantic)
---
That's all, folks. If you liked what you saw here, click that subscribe button (promise I won't send any annoying emails) and tell all your friends!
This newsletter is written by me and edited by my favorite person, Taylor Tompkins. Views expressed here are my own and don't reflect the opinions of my employer, yadda yadda yadda.
If there's anything you want to see covered in a future newsletter, let me know!
You can find me in other corners of the internet as well, if you so choose. There's my personal website (which focuses on pop culture, faith and my journalism clips), a Twitter account and a Letterboxd account. Subscribe away.
See you next week,
Jake