A quick newsletter before I go on vacation
Happy Thursday, Happy Belated Halloween, Happy November, Happy Noirvember, etc. Welcome back to Jacob's Letter, a free pop culture newsletter full of puns and badly-PhotoShopped dog photos. This week is full of a bunch of stuff I didn't get to last week and won't have time for this week because I am going on a long weekend trip with Taylor to celebrate our anniversary!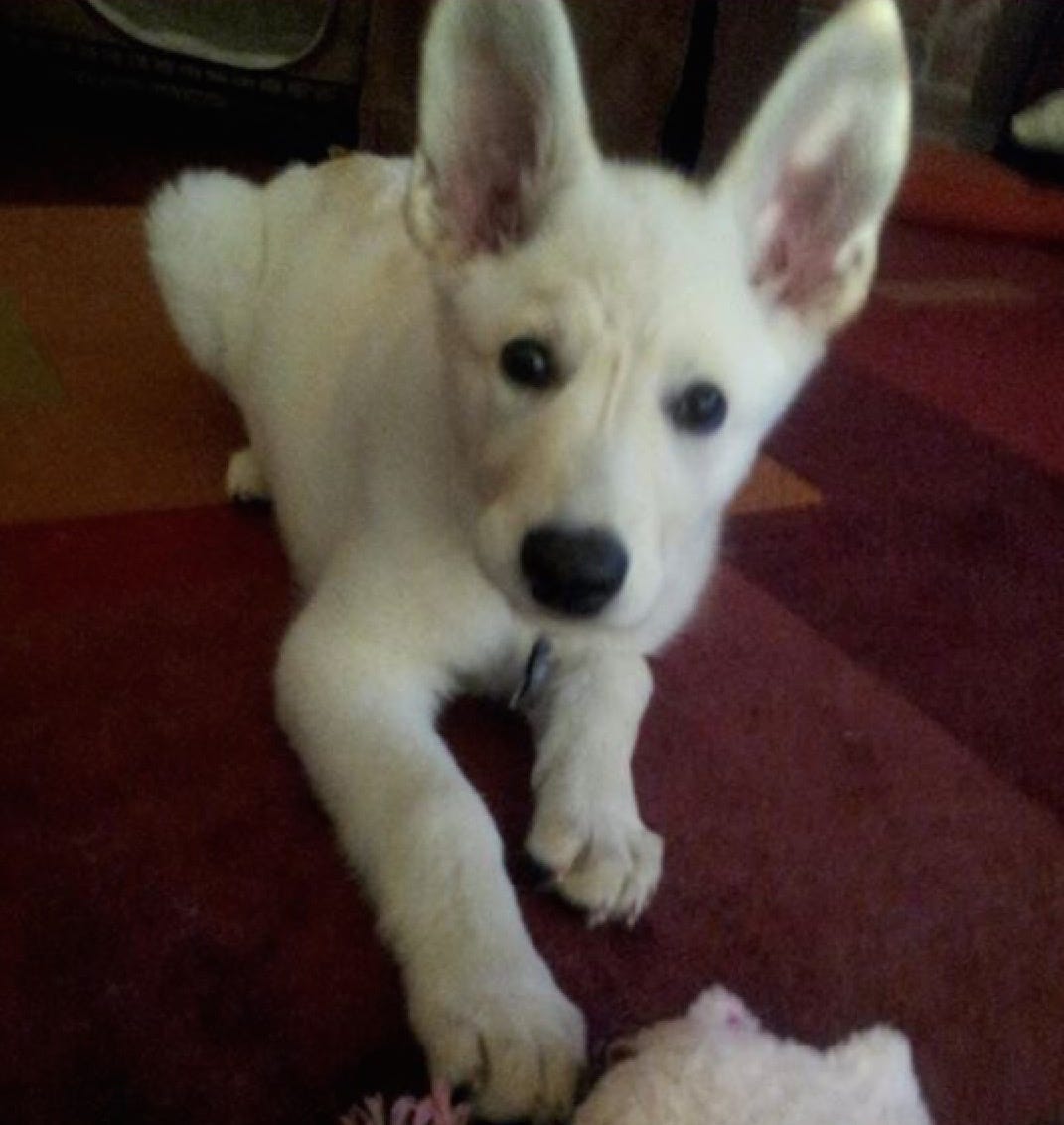 Nova as a young pup.
Coming up this week: More Martin Scorsese v. Marvel news (because that's a dead horse we're all still beating), My Chemical Romance and Rage Against the Machine are getting back together, and I share my thoughts on two of the best films I've seen this year. Plus, I've got a new movie trailer roundup for the holiday season. Check it out.
(Also, do you like what you're reading? Click this button to share):
---
Marvelous Marty doubles down
Don't worry, y'all, Martin Scorsese has clarified his comments on the Marvel Cinematic Universe after getting raked over the coals for saying they "weren't cinema."
In a new op-ed he penned for the New York Times, Scorsese gets at his deeper point, which is:
But the sameness of today's franchise pictures is something else again. Many of the elements that define cinema as I know it are there in Marvel pictures. What's not there is revelation, mystery or genuine emotional danger. Nothing is at risk. The pictures are made to satisfy a specific set of demands, and they are designed as variations on a finite number of themes.

They are sequels in name but they are remakes in spirit, and everything in them is officially sanctioned because it can't really be any other way. That's the nature of modern film franchises: market-researched, audience-tested, vetted, modified, revetted and remodified until they're ready for consumption…

So, you might ask, what's my problem? Why not just let superhero films and other franchise films be? The reason is simple. In many places around this country and around the world, franchise films are now your primary choice if you want to see something on the big screen. It's a perilous time in film exhibition, and there are fewer independent theaters than ever.
He also name-checks Paul Thomas Anderson, Claire Denis, Spike Lee, Ari Aster, Kathryn Bigelow and Wes Anderson as filmmakers who he likes and respects, so that's gotta be amazing for them to hear from him.
Imagine coming after the man who made "Taxi Driver," "Goodfellas" and "The Last Temptation of the Christ" and saying he doesn't respect cinema. Come at the King, you best not miss.
---
Movie reviews: Avast, ye parasites
Two of the best films of 2019 are now in theaters. First, "Parasite," from South Korean auteur Bong Joon-ho, is a riveting, suspenseful tale of class warfare between the haves and have-nots in South Korea, but really it could stand in for the wage gap anywhere in the world. Bong leaves no metaphorical rock unturned and gives this film everything he has. The way the camera moves from person to person based on who has the upper hand in any given situation is masterful, and Song Kang-ho delivers a knockout understated performance as a man who is willing to do anything for his family. If it's playing in a theater near you, go check it out. When it comes out on digital/Blu-Ray, it would make a great double-feature with "Us."
My rating: 5 rocks out of 5
Next up: Robert Eggers' "The Lighthouse." Where "Parasite" was understated and pointed (for Bong, at least), this is broad, loud, grey slate of a picture.
"The Lighthouse" is the strangest, wildest, horniest movie I've seen in years. Robert Pattinson and Willem Dafoe star as two workers who are holed up together for four weeks tending to a lighthouse off the coast of Maine and slowly drive each other insane. Or do they?
Eggers ("The VVitch") and his cinematographer Jarin Blaschke used old cameras to achieve the foggy, salty look of the frame, and utilize a near-square 1.91:1 aspect ratio to enhance the film's feeling of claustrophobia and constraint. You can smell the saltwater and farts.
Yeah, Dafoe farts twice within the first five minutes of this film and says stuff like "May Neptune curse ye and may Poseidon strike ye dead!" (That moment is when I knew I liked this film, but your mileage may vary.) It's a black comedy about how hell is other people, especially at work, but it's also a horror film that doubles as an old seafarer's legend about everything from regret to identity to toxic masculinity to generational communication to mermaids…maybe. I don't know. See this in a theater as well if you have a chance. Go in blind to both films if you can manage it.
My rating: 4 farts out of 5
---
Reunited and it feels so good
Crank up the "Black Parade" album and get on your eyeliner, emo kids, because My Chemical Romance is back together!
…At least, for a few shows. The emo rock band announced last week that they would get together for one show in Los Angeles in December. Tickets for that show have sold out, but more shows have been announced in Australia, New Zealand and Japan for next year. Who knows, maybe this means another album is cooking?
Also getting back together: Rage Against The Machine. The anti-corporate rockers announced this week that they will be playing more shows and headlining Coachella 2020, possibly the most un-RATM festival in existence.
---
Islands in the Stream
"Islands in the Stream" is where I'll discuss any and all happenings on the streaming front every week, since there's so much of it now. While you're here, read my deep dive for WFAA about how diverse the streaming landscape is becoming.
This week:
---
Trailer Park
Holiday Movie Season is here, and it's full of Oscar-bait and blockbusters galore. There's no Marvel movies on the lineup, but there is a new "Star Wars" coming out, as well as two war movies, another Stephen King adaptation, and much, much more.
Check out my full Holiday Movie Preview here at jakeharrisblog.com.
---
Letter of Recommendation
TV: For those looking for a wholesome reality competition show, check out the "Great British Baking Show" for rap: "Rhythm and Flow" on Netflix. T.I., Chance the Rapper and Cardi B are the judges in a rap competition show where contestants must do challenges like shoot a music video or collaborate with a famous producer. The contestants all lift each other up, and even when Chance roasts a contestant, you can tell he's not mad, just disappointed.
Podcast: Throughout American history, there have been moments that have always felt world-ending to those living through them— the Salem Witch trials, Prohibition, the discovery of Antarctica, the advent of social media, etc. The limited series fiction anthology podcast "Zero Hours" examines those three events and more in seven episodes, all out now.
In a time when everyone's making the same "lol I won't be alive in 50 years" jokes, this podcast is reassuring: People have been feeling like this at every stress point since the beginning of time. In its final episode, "Zero Hours is even hopeful about the future of humanity without ignoring the ways we are harming the planet now. You can listen to it here.
Book: Taylor and I finally finished "Educated," a fascinating memoir we started reading to each other about a year ago about a woman who was raised by doomsday prepper Mormon fundamentalists in Idaho and never attended school, yet made it to BYU, then Harvard, then Cambridge.
Reading this made me angry, terrified and proud all in the span of a few pages. It's brutal and hard to read but impossible to put down. There's been a lot of discussion about whether the events in this memoir happened 100% as they're depicted. On that front, I agree with some of the skepticism, but this book isn't about that. It's about telling Tara Westover's version of the most traumatic and impactful events of her life, and anyone who has disagreed with a family member about an impactful memory can tell you, sometimes, everyone's right about what they remember.
Video Game: "Luigi's Mansion 3" came out on the Nintendo Switch just in time for Halloween. You'd think Luigi would learn to stop going to haunted hotels, but then what fun would that be for me? This game is just as fun as the GameCube titles I remember playing as a kid.
---
Friday News Dump
A list of online stuff I really liked this week:
We don't talk enough about "Road to Perdition," I say, but this beautiful longform about the film's theme of family highlights everything I love about the film. (via Roxana Hadadi in Bright Wall/Dark Room)
---
That's all, folks. If you liked what you saw here, click that subscribe button (promise I won't send any annoying emails) and tell all your friends!
This newsletter is written by me and edited by my favorite person, Taylor Tompkins. Views expressed here are my own and don't reflect the opinions of my employer, yadda yadda yadda.
If there's anything you want to see covered in a future newsletter, let me know!
You can find me in other corners of the internet as well, if you so choose. There's my personal website (which focuses on pop culture, faith and my journalism clips), a Twitter account and a Letterboxd account. Subscribe away.
See you next week,
Jake